Our Top 10 Amenities at Compton Place
If you are about to make the wise decision to move to Tampa, Fl, we've got the perfect spot for you. Compton Place, is one, two and three bedroom gated community whose residents get to enjoy our long list of swanky amenities. See what you may be missing out on!
1. In-Unit Washer & Dryers
In-unit washers and dryers are installed in every unit – sparing you the inconvenience of communal laundry facilities. No more saving change and waiting till your down to your last pair of socks to go to the laundromat.
2. Central Air Conditioning
Beat Florida's heat with central air. No more sweaty days or night or being able to control the temperature with window units. Your apartment will stay cool and comfortable all year round. Don't always want the air running? In select units, you may enjoy a private patio or balcony, so be sure to ask about them if you are interested.
3. Easy Commute
For college & university students in Tampa Compton Place is conveniently located near Interstate 75, so the daily drive to your Tampa School will be a breeze. Currently employed (or looking to be) in the Tampa area? Compton Place is just a quick drive home from many local businesses, then you can relax poolside after a hard day's work.
4. Resort-Style Community Amenities
You heard us right! We said the magic four letter word…POOL. Live in the lap (pun intended) of luxury without going on vacation. Looking for more? Our rentals also come with access to the community clubhouse and the fitness center. Enjoy townhome/duplex style housing in a friendly, quiet neighborhood. What more could you ask for?
5. Pet-Friendly
Looking a place that will welcome your furry companion? Our apartments are pet-friendly, so be sure to ask about any specific requirements or fees before you move in.
6. Top of the Line Appliances
A large appliance suite will also be included with your apartment, and will include a dishwasher, garbage disposal, oven range, refrigerator, and ceiling fans in select units.
7. Individual Security System
This friendly neighborhood comes complete with individual security and 24-hour emergency maintenance, so you can rest easy at night.
8. Spacious Floor Plans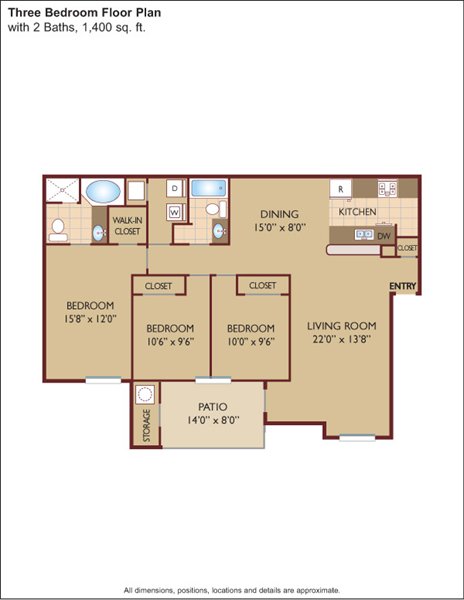 When you think apartment, most people think in terms of a living in a closet, but that is not the case with Compton Place. Our 1-bedroom apartments have over 1000 sq ft and our 3-bedroom 2-bath units go up to 1400 sq ft!
9. Walk-In Closets
Speaking of closets, some of our apartments come with this unheard-of luxury, Walk-Ins! Search no more for that perfect place that can hold all of your shoes, your Buccaneers jerseys and purses!
10. 24-Hour Maintenance
There is nothing worse than waiting around to get something fixed. Compton Place ensures that all of their residents have someone on-call to help during emergencies. You can reach us via phone or online 24/7.
Are you ready to live it up in the Tampa sunshine? Check out our Guide to Living in Tampa and then shop till you drop, soak up some rays, or sample a wide variety of cuisines at Tampa's numerous restaurants. Compton Place is a hop, skip and a jump away from all the hot spots and has all the amenities you need to keep you cool when you get back home.   
Ready to move in?